Resource Conflict
Submitted by andrew on Wed, 08/20/2008 - 19:47
Project Features:
Compatible with both the Event and Date API Drupal modules
Multiple resources of varying types can be booked within one booking
Integration with the Content Construction Kit (CCK) module allows significant flexibility
This module allows for users to book resources for use during events. For example, a student can book a microscope for use within their lab. If there is a pre-existing event which conflicts in both time and resource, a form error is displayed and the user is forced to either book a different resource or change the event times.
Submitted by andrew on Wed, 07/30/2008 - 21:20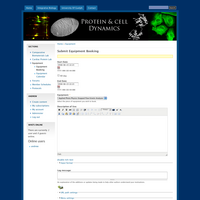 Lab members can book equipment use through the website. Conflicts with previously scheduled bookings are displayed, and the user is required to choose a non-conflicting time. Conflict detection was a new feature which has been released to the public, available at the Resource Conflict project page.